Silver Tanzanite Rings, Is Tanzanite Suitable For 925 Silver Jewelry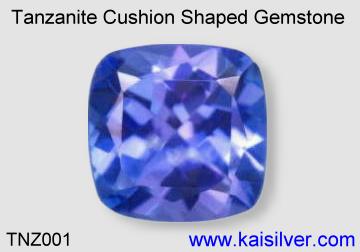 Suitability Of Tanzanite For Silver Tanzanite Rings

When you talk about a tanzanite silver ring, a question that is often asked is whether tanzanite gems are suitable for silver jewelry. The fact that most jewelers do not offer tanzanite silver rings or, do not offer good quality tanzanite gems in 925 silver rings does create some confusion. The truth is that it is technically possible to craft a sterling silver tanzanite ring with a good tanzanite gem.
Aside from the technical feasibility is the issue of budgets. If you are hunting for cheap silver tanzanite gem stone rings, then do not expect quality. Tanzanite is one of the more expensive gems used in jewelry, the better the quality or the larger the size - the more you pay for the gem. At Kaisilver we have always welcomed jewelry orders in gold or 925 silver. The same degree of attention, care, gem options and craftsmanship would be provided for a gold or 925 silver tanzanite ring.
You could request for a yellor or white gold tanzanite ring with the TNZ001 gem shown above. And you could also order the very same ring, with the very same gem stone in sterling silver. We would welcome your request in both cases. With no limitation on design, dimensions or gem stone, we provide customization that no other jeweler can match in gold or 925 silver jewelry.
One thing that remain the same for the tanzanite gem in a gold or silver ring are the physical properties of the gem. For example, we always recommend that tanzanite gems be kept away from hard objects as physical impact could damage the gem. This suggestion is applicable for gold or 925 silver tanzanite rings. The gem stone should not be put through ultrasonic jewelry cleaning, once again applicable to tanzanite gems and tanzanite jewelry in all metals.
One thing that specifically relevant to Tanzanite 925 silver rings relates to cleaning tarnish from the jewel. A gold tanzanite ring would not tarnish but, all silver jewelry does tarnish. Even if you plate your sterling silver tanzanite ring with rhodium, gold or platinum the plating would be temporary and wear off over time. If you clean your silver tanzanite ring just as the tarnish sets in, the process would be simple and convenient. Commercially available silver jewelry polishing lotions or fabrics can be used for this. If you decide to polish your silver tanzanite ring, read the details that came with the polishing lotion or fabric carefully. Now follow the process and complete the polishing operation. Once you have done that, we will strongly recommend that you wash the ring in running water. This will take of any residual chemicals (from the polish) that might be stuck to the stone or the metal mounting.
There are many more details related to tanzanite silver rings, you can read the comprehensive Kai Silver report on the subject at http://www.silverrings925.co.uk/925-silver-tanzanite-rings-s925-01.htm do email our support experts at sales@kaisilver.com if you have any queries or doubts. A gorgeous tanzanite wedding ring in gold or 925 silver can be seen at http://www.tanzanite.kaijewels.com/tanzanite-wedding-ring-rg143-kj-2609.htm This is one of the most meaningful jewels in history and would surely interest and impress you.