The Kaisilver Report On Opal Claddagh Rings.
The history and meaning of the claddagh ring has earned it great respect and appreciation across the globe. Designed after an intense study into the history and meaning of this historic jewel, the Kaisilver claddagh ring is today accepted as the best rendition of this 375 year old jewel. A claddagh opal ring is a great option for lovers of the opal gem stone. You will find that most offerings for opal gemstone claddagh rings are for rings with white opal gems. There is no clear explanation for this but it is presumed that, not many jewelry lovers are aware of opals with other colors.
Opal gemstones are available in white, green, pink, orange and black. These are the prominent colors in opal gemstones. Most of the opal mined comes from Australia so much so that, the country is sometimes referred to as the 'opal country'. There is one opal named fire opal which is unique in many respects. This opal is mined far away from Australia in Mexico. The color can be a pale yellowish-orange to a deep saturated orange with a reddish color shade. While most opals are cut in a smooth (cabachon) shape, fire opals have good transparency and can be faceted to show extra glitter and lustre. The image below shows a fire opal claddagh ring in white gold. The color of this gem is a bright orange the transparency is very good. Darker shades or orange fire opal gems tend to get lower on transparency and show shades of red. Kaisilver opal claddagh rings are fully custom made and this includes custom gem cutting. You can therefore specify the color shade for the gem in your claddagh fire opal ring.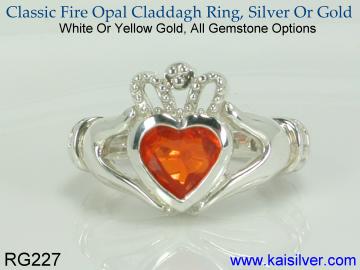 The RG227 is a fire opal claddagh ring, You can have your claddagh ring in gold or sterling silver. The gold claddagh opal rings are available in 14k or 18k gold. Yellow and white gold claddagh rings are priced the same. ...more
White opal claddagh rings are not very rare but, understanding the white opal gemstone will help you choose the right ring. Like all opals white opals have a small amount of moisture in them. It is this moisture that plays a part in adding beauty to the gemstone. Observe a good white opal and you will notice tiny specks with rainbow like colors. White opals show these specks quite clearly and white opals which do not show these look quite drab and dull. When you pick a claddagh white opal ring make sure that your ring shows these color flashes. Jewelry lovers generally believe that white opal should be set in yellow gold. It is thought that setting a white gem in white gold will give the jewel a placid appearance. This might be true if you get a white opal claddagh ring with a gem that is void of these color specks, such opals look more like pieces of plastic and lifeless. Ideally such junk white opals should not be used in any type of jewelry, so make sure that you don't pay for these. Below is a great example of how good a white opal claddagh can appear when produced in white gold.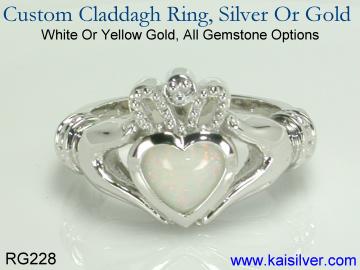 A classic white opal claddagh ring in white gold. The good quality white opal shows rainbow color specks on the surface. This adds an interesting appearance to the gem and also makes it look good in yellow or white gold. ... more.
You are welcome to send your queries and requirements to us at sales@kaisilver.com Our team of experts will be glad to provide you with whatever information or clarifications you need. Kaisilver is the world's leading online custom jewelry provider. All jewelry is custom made in gold or silver with all gem stone options.