Gemstone Cufflinks, Select The Right Gem For Your Cuff Links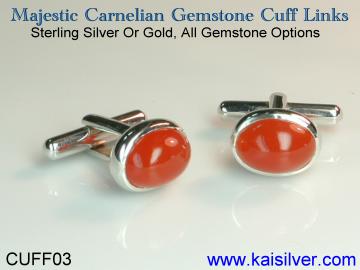 Choosing The Gemstone For Your Cufflinks
Cufflinks can be plain with no gems or diamonds or can have, gems. When it comes to gold or 925 sterling silver cufflinks with gemstones, it is good idea to devote sufficient attention to the gems that you need. You might be surprised to know that, the design concept for your cufflinks might also need to be customized to suit the gemstones that you need. In this brief report on gemstone cufflinks, we will highlight the essentials that need to be considered.
Natural or Artificial: Your gem options for a pair of cuff links can be broadly classified as natural or man made (artificial) gemstones. Natural gems will generally be more expensive than artificial gems but, artificial gems can sometimes be more sturdy as compared to natural gems. If you are more concerned about the gem color and not worried about the gems being natural, make sure that your jeweler understands that. There is nothing wrong in going for a pair of gold or silver cuff links with artificial gems as long as, you get what you paid for and know what you are getting.
Gem Size: This information might not be relevant if you are going for a pair of cufflinks with artificial gems. In the case of natural gemstones the issue of gem size takes on special importance. This is mainly because most natural gems show a sharp increase in price (per carat) as the gem size increases. The CUFF-03 cufflinks shown above are made with a pair of natural carnelian gemstones. This is a modestly priced gems and the 14x10mm oval size does not push the price tag sky high. However if you were thinking of natural sapphire or ruby, a gem size beyond 9x7mm oval would be extravagantly priced.
Gem Durability: All gems are not equally hard and durable, in the gemstone world the price you pay for a gem does not reflect it's toughness. A good example is emerald, this gem is clubbed in the 'expensive' gemstone category but it needs a lot of looking after - and this is even when you store or clean cufflinks or jewelry that have emerald gems. We made a statement above that, artificial gems can be more durable as compared to their natural counterparts - this is very true of emeralds.
Gems and Design: Since many gems are highly priced per carat as the gem size increases. You will need to select the concept for your cufflinks based on the gemstone that you choose. When going for tourmaline, morganite, aquamarine and even iolite - stay in the 8mm to 8x6mm size. But when it comes to rubies, sapphires, emeralds and tanzanite we would suggest that, you limit the gemsize to the 4mm to 6mm size range. You might feel that such small gems would look strange in a pair of cufflinks but, this is where a smart design can help. You can make a pair of cufflinks with more than one gemstone if you plan on keeping the gemstone sizes small.
The above information that we have provided will not make you a gemstone expert, it will also not make redundant the guidance and advice that your jeweler should provide. The objective in writing this report on gemstone cufflinks is to give you a broad overview of the issues related to gem selection. Your jeweler will need to guide you with your specific selection, just make sure that you select the right jeweler.
Our expert team will be glad to assist you in any way they can. Do email us at sales@kaisilver.com with any queries or requirements that you might have. A selection of our highend custom cufflinks can be reviewed at http://www.jewelry.kaijewels.com/man-cuff-link-kj-all.htm We can ofcourse make your cufflinks with your designs or ours, both gold and 925 silver cufflinks get the same quality of gem options and craftsmanship.